Now that fall is in the air I still remembered that I had to finish a report on my Rhode Island trip last fall that was made possible due to involvement by Jeremy of Flies and Fins for which I am still extremely gratefull.
So here is my report about a Striper novice lost in Rhode Island

Hopefully I can make another trip in the future.

October 1st.

My intended destination for my annual vacation would have been Florida but because of the oil disaster in the Gulf of Mexico I decided to change my plans.
At work my boss once again tried to block my time off with as reason that I would be "indispensable",
off course complete nonsense otherwise I would have had better pay ages ago.

Two weeks was the maximum time I could get for a trip in October, too short but it had to do.
So I pondered about an alternative destination and the Caribbean was the first thing on my mind,
further exploration of that part of the world made it clear that it would be too expensive in my book.
Then Stripes came to mind, my first Striper trip went pretty well and I always had the urge to try
it for a second time.
I turned to one of my American fishing friends and asked him if he had some good tips for an
affordable Striper trip.
Well it turned out he had, his parents had an apartment for rent at a coastal town in Rhode Island.
The place was located not far from the beach and a saltwater pond, even some freshwater
opportunities where not far away.

So my holiday destination would be Rhode Island.
I contacted the parents and arranged that I could rent the apartment for the first two weeks of October.
Next I completed my travel arrangements, with Iceland air I would travel from Amsterdam to Reykjavik in Iceland where I would change planes to Boston, Massachusetts.
From Boston I would take the Amtrak train to Rhode Island.
The whole planning and arranging went pretty well until I received a mail from my landlords that they would not be present at the apartment when I would arrive since they had to travel out of state.
Off course I immediately send a mail back with the question who would be available at the apartment
to open the door but I did not got a message back.

It seemed like my plans where about to be derailed so just in case I wrote down addresses of hotels in
the area for the worst case scenario.
At the stopover in Iceland I tried to get some clarity about my lodging in the US so I send a text message
to my acquaintance for instructions.
I was happy when I got a message back that the doors of the apartment would be unlocked.
My travel could continue unhindered after this message.
In Boston I got through Immigration without delay, after customs it was of to the cabs for a trip to
Boston South Station.
The train tickets where pulled out of the ticket machine at the station and off it was on the northeastern regional to Rhode island.
90 minutes later I was close to midnight at a little train station on the RI/CT border.
The next hurdle would be to get a cab in this little town late in the evening.
To my surprise it did not take long before a cab arrived, what made me wonder was the fact that the cab had no navigation fitted.
I had planned for such mishaps so I had printed a small map of the area where my apartment would be located.
The road to the beach was easily found since it was well know to the driver but that darn side road was nowhere to be seen in the rural dark night.
After driving around with no clues for a while the cabby produced his own navigation system out of a bag and within minutes we arrived at the house.
Now we had to find the house at nr.23 which turned out be difficult, I had passed it on my first Rhode Island trip two years ago but that was in broad daylight.
After three driveby's I noticed that in one yard a flats boat stood on a trailer, I thought that it might be the right house but was not sure.
I told the cabby to stop and said that the door should be open so I had to check it out.
I walked towards the door and indeed it was unlocked, then again this was Rhode Island and maybe people where very honest there.
The last thing I wanted to do was to surprise a gun toting homeowner or get a warm welcome by a pitbull so I rang the doorbell but nothing happened.
I was told in advance that the fishing gear I had ordered in advance was located on a table in the dining room so I yelled " hello" just in case and entered the building.
Luckily I found the dining room with my fishing gear and not the pitbull.
Since I was already 20 hours on the road the only energy left was for a quick shower before I went to sleep.

Oktober 2nd.

After a long sleep the first thing I did was to thoroughly check the apartment, I was not disappointed.
After some shopping I decided to check out the beach.
A stalled tropical wave in advance of my travel had messed up the weather, with wave heights
predicted to be "shoulderhigh" I knew that flyfishing the beach would probably not be possible.
My best chance would probably be the saltwater pond but first I had to find my way to it.
Two years ago I did fish the pond but than I was located due south of my current location so the
area I was now in was totally new for me.
I figured that just walking westward on the beach would get me to the breachway and then to the
pond but large rocks made it difficult to continue.
When I noticed a path between the big houses on the beach I figured that it was a public access
so I followed it and finally ended on a road that looked familiar to me.
The road I found was the same I took two years ago on the way to the boatramp that lay at the point
where the breachway entered the pond.

I followed the road and ended up at the pond where I could see a large sandy flat that looked ideal for
wading. The water was very clear, a small channel than ran along the flats was clearly visible.
I decided to fish the channel at high tide and waded quite a bit into the pond, too bad I did not
encounter any fish.
There where a few other fisherman around on kayak which was probably a very good mode of
transportation in the pond.
Those guys where fishing the northern shore of the pond and since they stayed quite long in the same
spot I figured they where into fish.

At sunset I called it a day, as I walked to shore I came across some guys that had fished from the kayaks.
They had indeed gotten into fish, a kayak was a nice thing to own.
At sunset I decided to head back to the apartment.
There where no telltale signs of fish at the beach, I only encountered a pretty dead bluefish laying on the sand.
At the house I noticed that the felt soles of my wading shoes where about to part with the rest of the shoes, I had an idea they would not last that long anymore.
The first fishing day remained ... fishless.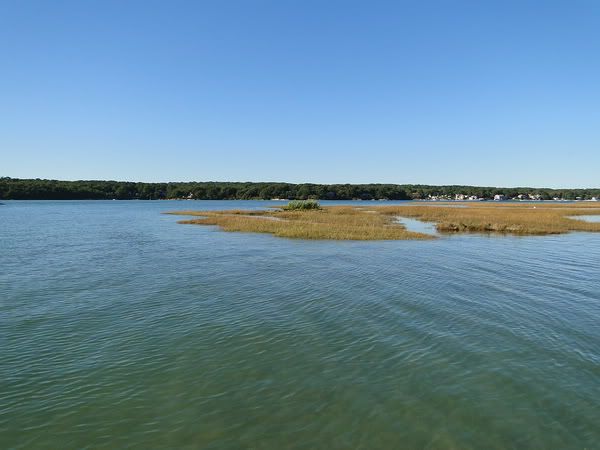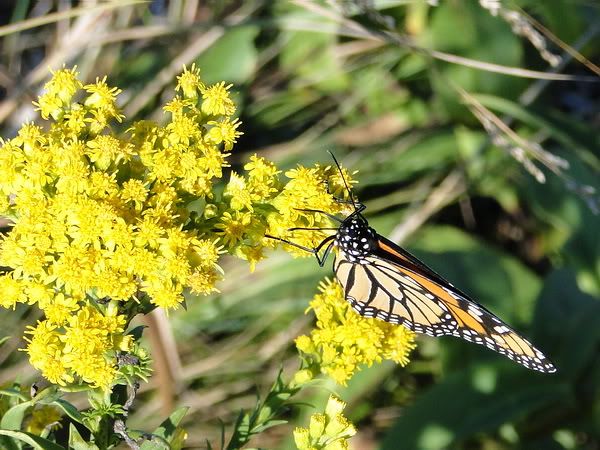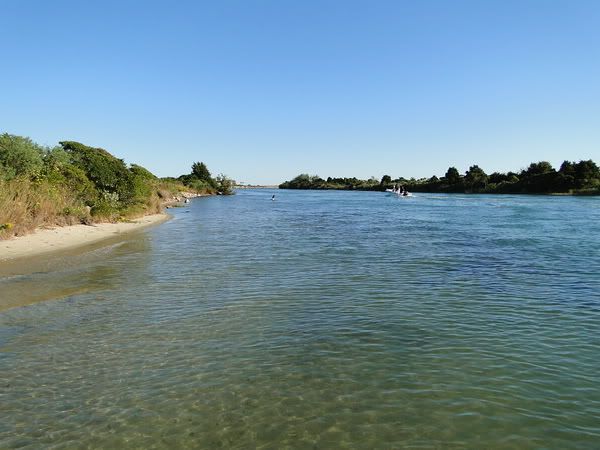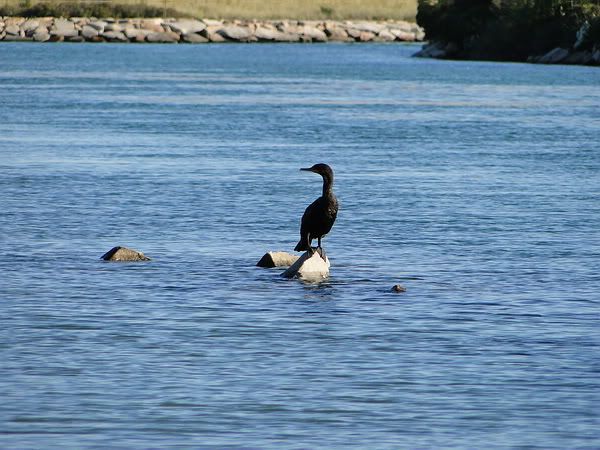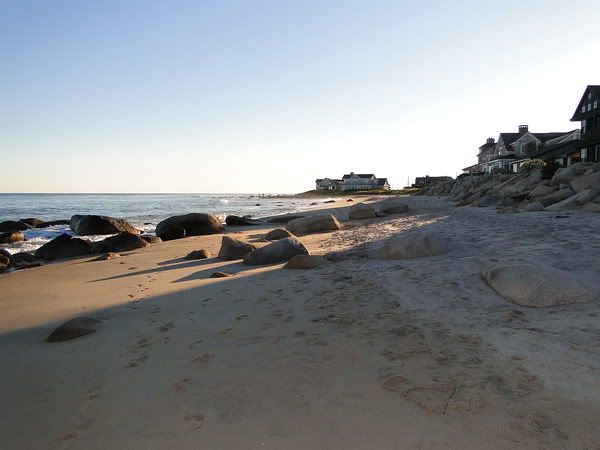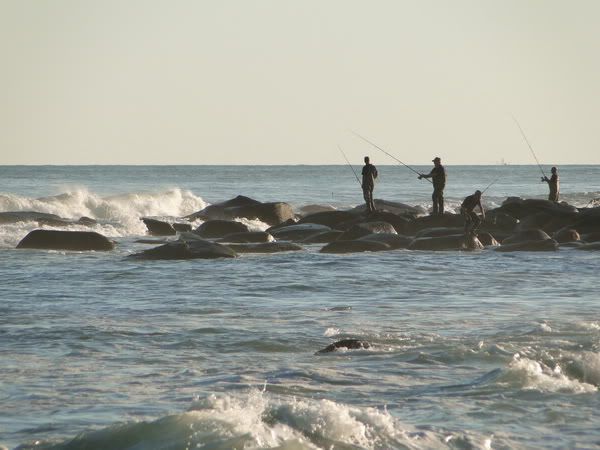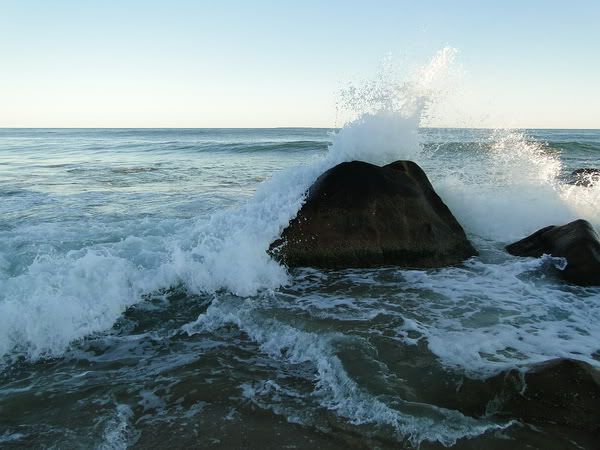 [img] [/img]
October 3rd.

The weather forecast was not something that got me excited with the wave height listed as "head high".
The strong westerly winds made flyfishing impossible so I decided to stay in and get the apartment sorted and organize some food.
The gas station up the road boasted it's own deli which provided me with some good sandwiches.
With a campground nearby all the basic canned foods and assorted items where available.
Stocked up with supplies and headed back for that o so important cup of coffee.

October 4th.
Another day with weather that was not for my liking, lots of rain and strong westerly winds made flyfishing impossible.
Now I regretted leaving the spinning rod at home, that was the punishment for being a purist

Since I did not came all the way over the big pond to stare at the water I headed to the beach
anyway to see that the ocean was in washing machine mode again, foam and waves and no anglers
to be seen.

There was however always the breachway and the channel that connected the ocean with the saltwater pond in the interior.
I did manage to chuck a white deceiver in the main channel, at least I was fishing.
After half an hour I finally got a hit on the fly and could hook and land a small Striper of about 50cm.
If there was one Striper than there had to be more but unfortunately I did not get into any other fish.
As the wind grew stronger and the temperature started to plummet I decided to call it a day.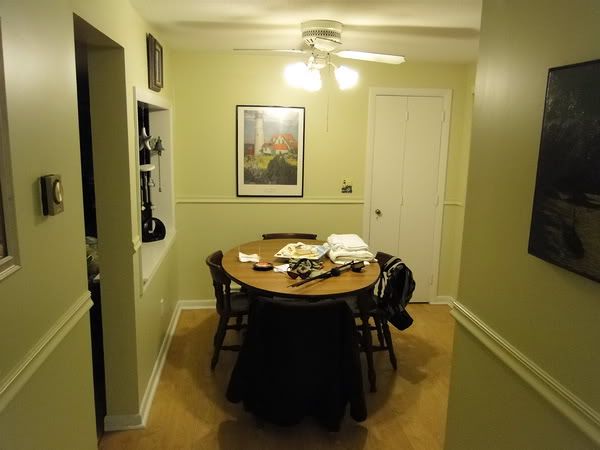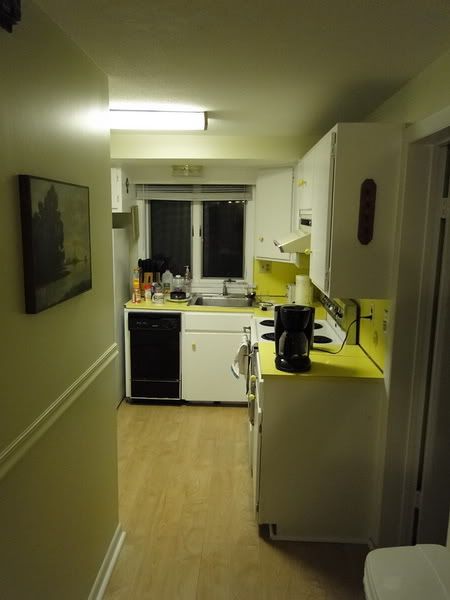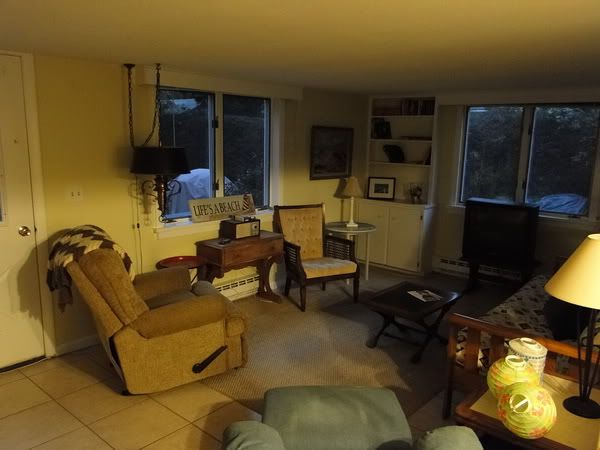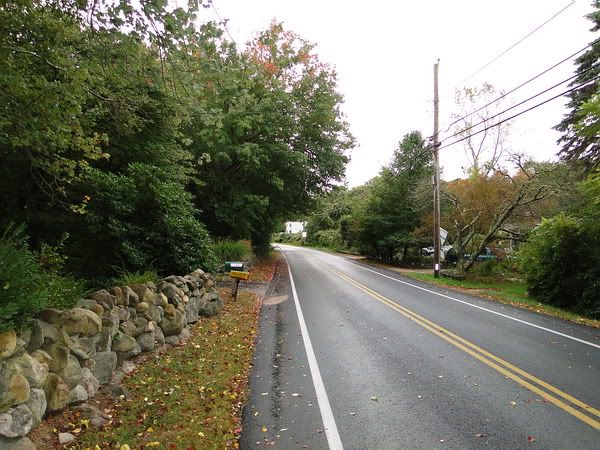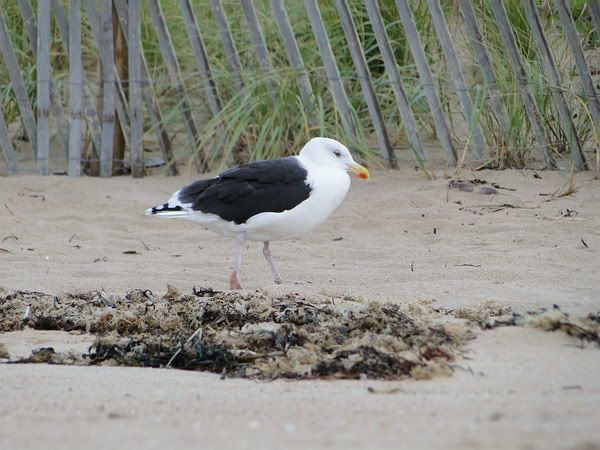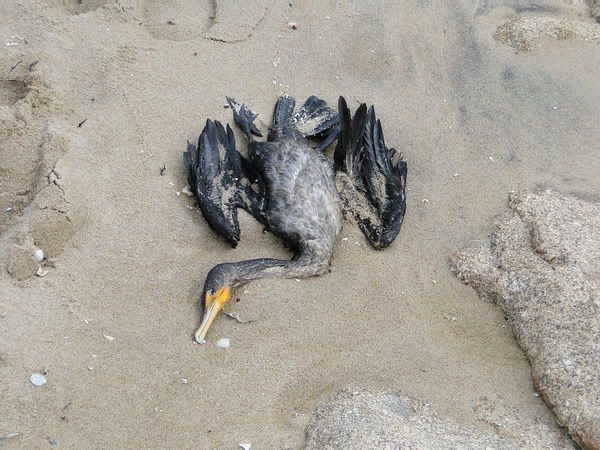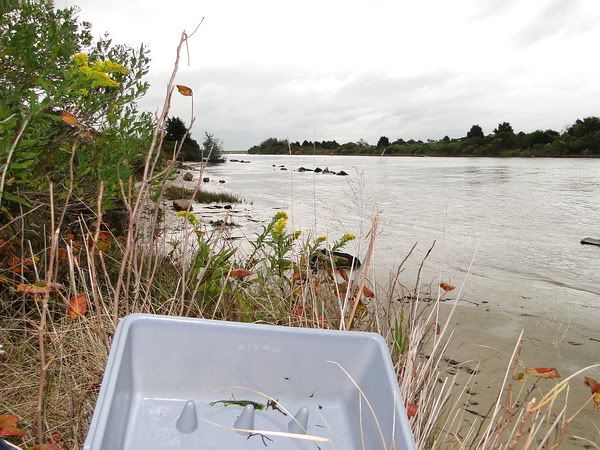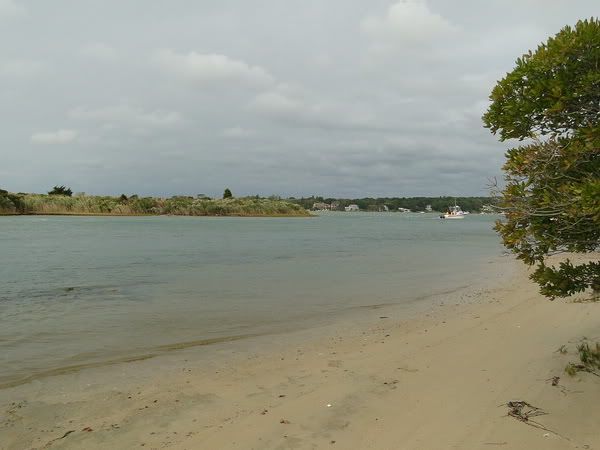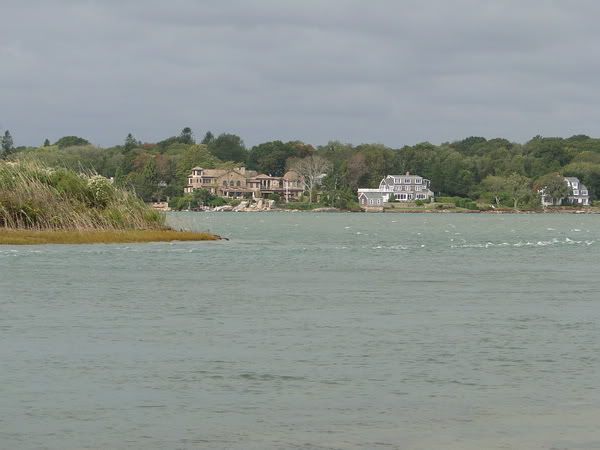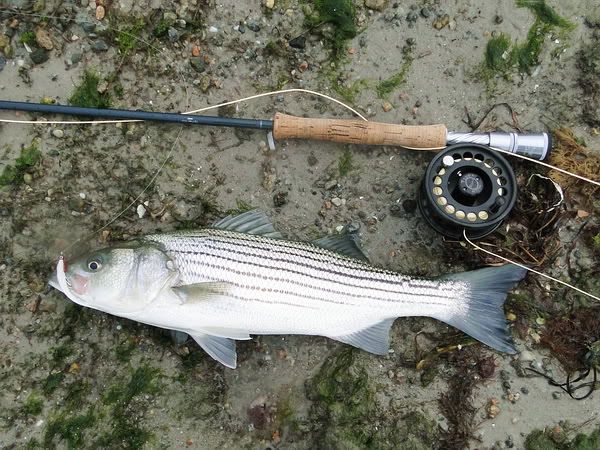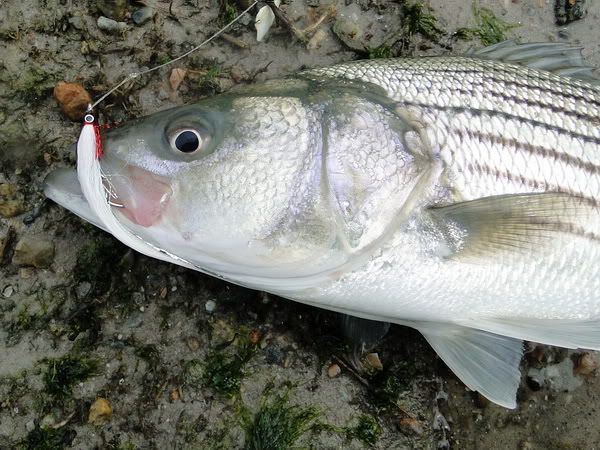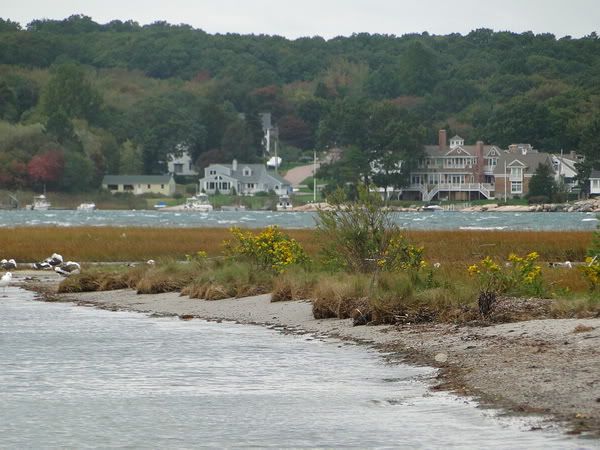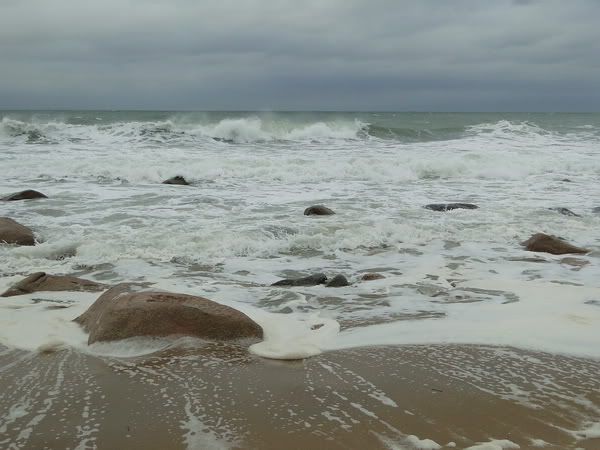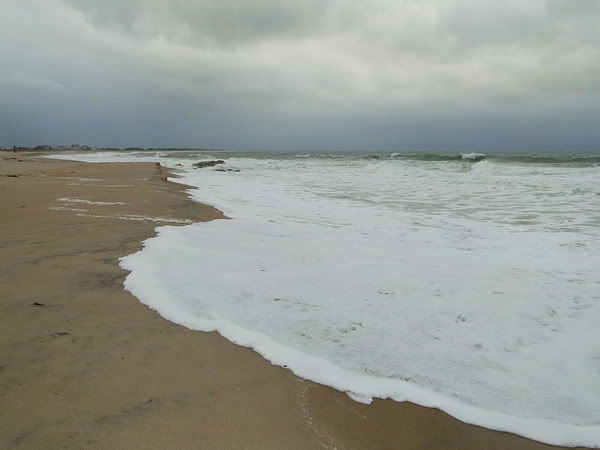 October 5th.

The bad weather continued so I headed right for the pond.
Since floating line and streamers did not yield anything I decided to switch to a fast sinker and fished a floating crease fly.

The change helped as I did get something, to bad it where just bluecrabs.
Stripers and Bluefish remained an illusion and so I had another skunk day.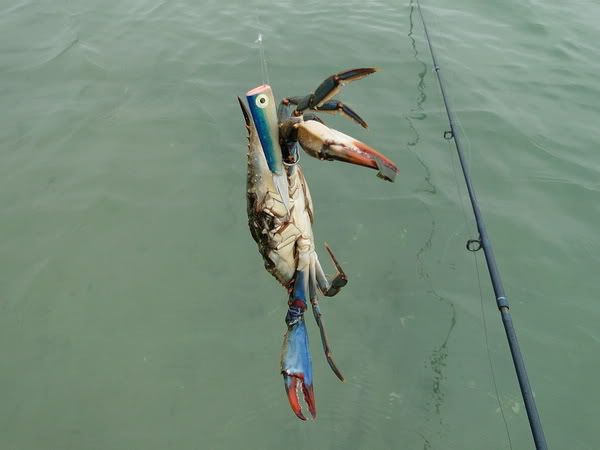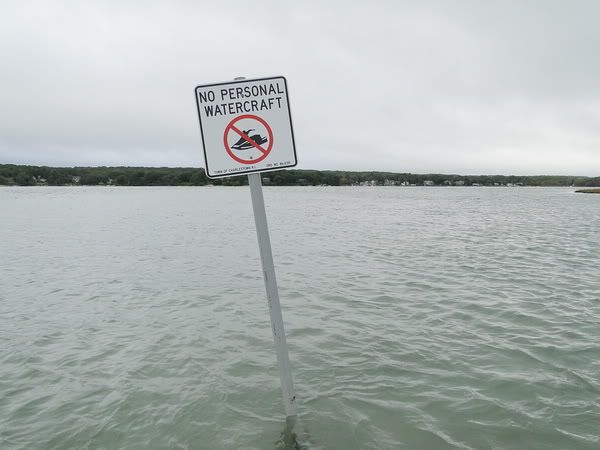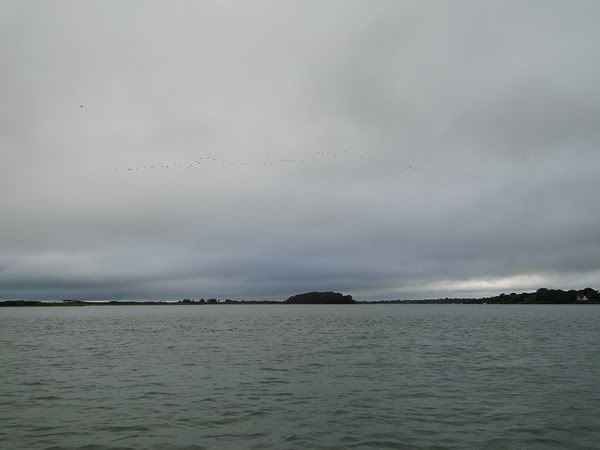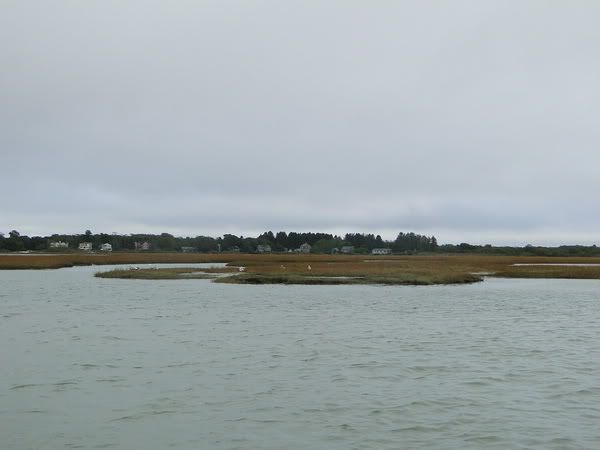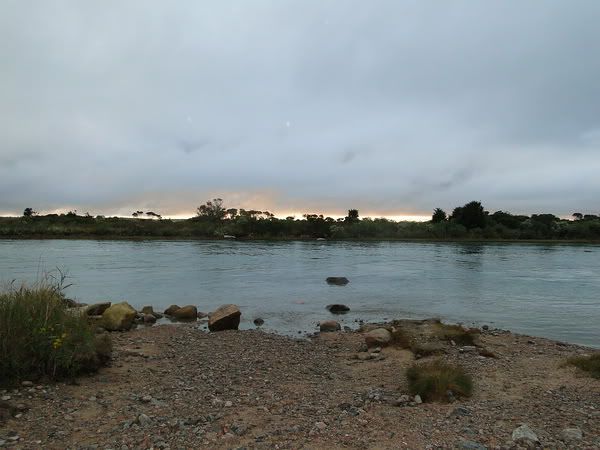 October 6th.

Pounded by steady rain I headed to the beach, the waves where now low enough to be able to wade along the beach.
In the boulder area at the beach I spotted for the first time baitfish in the wash so hopes where up.

At one spot the show really started as I got a hit on the fly at every cast.
After a few hours I had hooked and landed twelve Stripers.
In the mean time one of my felt soles had departed from the wading boot to be never seen again which meant I could no longer safely traverse rocks.

I had to cut my trip short in order to get new wading boots asap.
Back at the house I texted my Orvis dealer in Maine "Need wading boots , tomorrow here in RI".
Quite soon I got a message back "Boots in stock, delivery tomorrow" - that was what I call service.